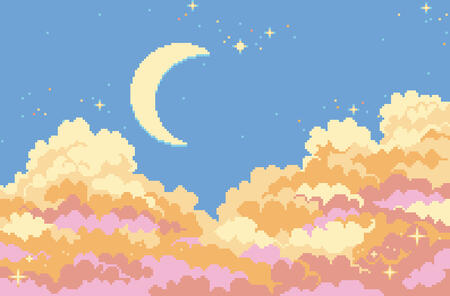 alisuca
---
Hello traveller, it seems you've stumbled upon an Alice. What will you do?
---
Hey it me
---
Hello, I'm Alice! I go by Alisuca (art) and Arisuki (gaming). I was born in Romania and grew up in Canada. Now, I'm a French Immersion elementary school teacher in Toronto and I do art and streaming in the evenings! ♥

Outside of the arts, I enjoy dabbling in science, especially natural history, ethnobotany and wildcrafting. I tend to enjoy rhythm, RPG or platforming games. I also like going to cute cafes and high teas and painting my food!

★Pixel art★
» aseprite + mouse

★Marker art★
» copics, usually on Winsor & Newton paper

★Watercolour art★
» mostly Daniel Smith on Arches
» food sketch book is Hahnemuhle

★Music★
» I've written a lot of songs over the years and sometimes perform them on stream!
» ukulele » piano » gameboy » guitar

★Twitch★
» streaming since 2012!
» logitech C920 x2
» blue yeti
This photo sums up everything I have ever been and will ever be.
pixel commission info
general
All prices are USD!
♥️ will draw ♥️
» cute/sweet/femme themed art
» original characters, anime, fanart, people, food
» simple or medium detail backgrounds (e.g., sparkles, gradients, patterns, clouds)
» watercolour/copic art (message me!)
✖ will not draw ✖
» extreme violence/gore/NSFW
» complex mecha/vehicles
» realistic animal paintings
Feel free to reach out to me on twitter, IG or email if you have any questions or a project that doesn't fit into these categories. For more examples, please browse my galleries!
By commissioning me, you agree to these terms and conditions:
Pixel art price guidelines (for traditional art, please message on twitter or instagram!)
$50 each ♥️ icons
+ around 28x28-40x40
+ simple icon theme
+ great for twitch badges, emotes, points
+ extra for 2-frame or simple animation
$75+ ♥️ detailed bust
+ simple bg included
+ animation extra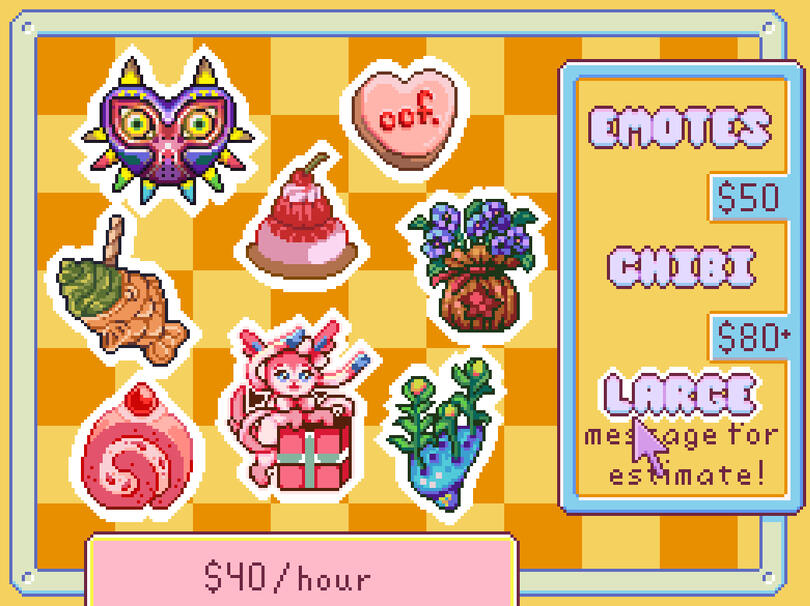 $75+ ♥️ Past hip
+ simple bg included
+ medium detail outfit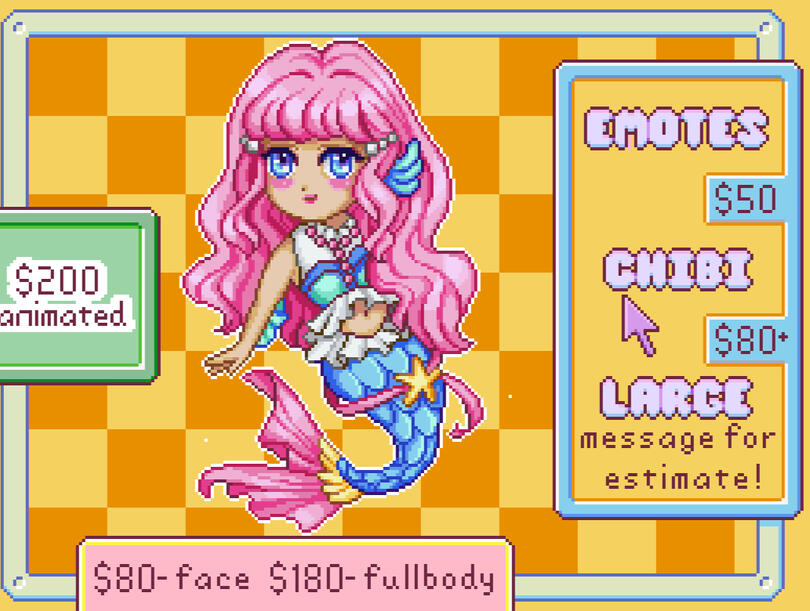 $100+ ♥️ Full length
+ simple or no print included
+ simple background, framing, writing
+ icons extra (see top)